New and Upcoming Games From Gencon
By Ray Snyder
Gencon 2017 just completed and tons of new games where shown. Here is a list of the games that caught my attention. Some of these Titles are releasing now while others are are not out yet, check your local Game Kastle for more details on release dates or preorders.
Star Wars Legion
Star Wars: Legion invites you to enter the ground battles of the Galactic Civil War as the commander of a unique army of miniatures filled with troopers, powerful ground or repulsor vehicles, and iconic characters like Darth Vader or Luke Skywalker. While innovative mechanics for command and control simulate the fog of war and the chaos of battle, the game's unpainted, easily assembled minis give you a canvas to create the Star Wars army you've always wanted to lead into battle—whether you fight for the monolithic, oppressive Galactic Empire or the ragtag Rebel Alliance.
Company of Iron
Company of Iron is a squad-based skirmish game that reinvents WARMACHINE and HORDES battles as smaller confrontations between fewer warriors and their character leaders. Average games are played with 10–15 miniatures, and Company of Iron is compatible with the majority of the existing miniatures in the WARMACHINE and HORDES product lines. The rules for Company of Iron have been streamlined and do not include warcasters or warlocks but can include light warjacks and light warbeasts.  Company of Iron uses the core rules of WARMACHINE and HORDES but has been tailored for the scale of the game and the absence of warcasters and warlocks. Emphasizing its fast-paced skirmish scale and the focus on small squads and solos, gameplay revolves around players taking turns activating one model at a time as opposed to the alternating activation in WARMACHINE and HORDES, in which players activate their entire army during a single turn.
Starfinder  
Strap in and blast off! The Starfinder Roleplaying Game puts you in the role of a bold science-fantasy explorer, investigating the mysteries of a weird and magical universe as part of a starship crew. Will you delve for lost artifacts in the ruins of alien temples? Strap on rune-enhanced armor and a laser rifle to battle undead empires in fleets of bone ships, or defend colonists from a swarm of ravenous monsters? Maybe you'll hack into the mainframe of a god-run corporation, or search the stars for clues to the secret history of the universe or brand new planets to explore. Whether you're making first contact with new cultures on uncharted worlds or fighting to survive in the neon-lit back alleys of Absalom Station, you and your team will need all your wits, combat skill, and magic to make it through. But most of all, you'll need each other.
Fallout    
Fallout is a post-nuclear adventure board game for one to four players. Based on the hit video game series by Bethesda Softworks, each Fallout scenario is inspired by a familiar story from the franchise. Survivors begin the game on the edge of an unexplored landscape, uncertain of what awaits them in this unfamiliar world. With just one objective to guide them from the very beginning, each player must explore the hidden map, fight ferocious enemies, and build the skills of their survivor as they attempt to complete challenging quests and balance feuding factions within the game.
Dragonfire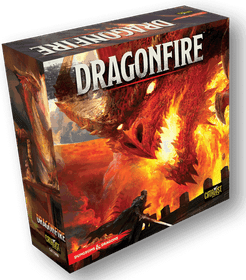 Dragonfire is a cooperative deck-building game set within the world of Dungeons & Dragons. Players choose from a number of races — from dwarf to elf, half-orc to human — while assuming the quintessential roles of cleric, rogue, fighter, and wizard. Equipped with weapons, spells, and magic items, players begin their adventure along the famed Sword Coast, then expand to other locales across the Forgotten Realms, such as Baldur's Gate, Neverwinter, and Waterdeep in future expansions. Along the way, players level up their characters, opening access to additional equipment, feats, and more. Join the quest, and build your own legend!
Rising Sun  
Rising Sun is a spiritual successor in the same mythic big box series as Blood Rage: same designer, same artist, same studio and same sculptors.

Rising Sun is a game about honor, negotiation and warfare in a feudal Japan where the ancient gods (kami) have returned to rebuild the empire.

Whereas the distant ancestor of Blood Rage was Risk, Rising Sun claims Diplomacy as its distant ancestor. Tackle negotiations, alliances and war. Capture hostages and commit seppuku. The game features an honor track, in which you can rise and fall based on your behavior.
Unearth
Long ago, your ancestors built great cities across the world. Now your tribe must explore forests, deserts, islands, mountains, and caverns to find these lost cities. Claim the ruins, build places of power, and restore the glory of a bygone age.
Unearth is a bend-your-luck game of dice placement and set collection. Designed by Jason Harner and Matthew Ransom, it plays in under an hour with 2-4 players. Each player leads a tribe of Delvers, represented by five dice (3 six-sided, 1 four-sided, and 1 eight-sided). Players take turns rolling and placing dice in an attempt to claim Ruins.